National 3D Printed Musical Instrument Challenge
Ottawa Symphony Orchestra and Canada Makes Announce the Winner of the National 3D Printed Musical Instrument Challenge
OTTAWA – THURSDAY 14 JUNE, 2018
Ottawa Symphony Orchestra and Canada Makes are pleased to announce Robert Hunter as the winner of the National 3D Printed Musical Instrument Challenge for his design for clarinet and brace which improve the ergonomics of the instrument by redistributing the weight of the instrument to larger muscle groups compared to traditional instruments. The award will be presented to Robert Hunter in person at Ottawa Symphony's Open House event on Thursday, June 14th between 5-7pm at Dominion Chalmers (355 Cooper St.) in Ottawa.
"I was interested in this competition because of my combined background in biomedical engineering including biomechanics, 3D CAD design, and music. I used to play clarinet a lot in high school, and when I would practice for long periods my right thumb would become sore from supporting the weight of the instrument. So when I read about this competition, this problem immediately sprang to mind for something I could try and solve." – Robert Hunter
The National 3D Printed Musical Instrument Challenge asked participants to improve or design an ergonomically optimized musical instrument that leverages the power of 3D printing (metal or polymer) for its fabrication, while remaining cost-effective. The designers were encouraged to consider how they could contribute to solving the epidemic of performance related injuries among professional musicians and music students by addressing root causes of the issue insofar as it relates to instrument design.
"Hunter's design directly addresses an ergonomic injury risk to the musician and his proposal included an assessment of both playing aesthetic and technical demands. Bravo!" – Dr. John Chong.
"While music lifts the soul, many musicians – professionals and amateurs alike – struggle to perform due to injury. This challenge was an invitation to designers to employ new technology to the benefit of musician's health. We were so pleased with all the creative ideas we received, and specifically, to award the KUN Prize to Robert Hunter."– Alain Trudel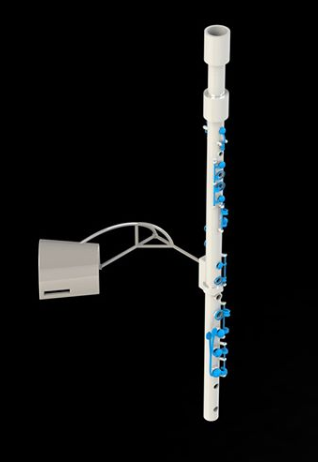 Robert Hunter's design for a more ergonomic clarinet.
Rather than the clarinet resting on the musician's thumb and causing blisters and tendinitis, the weight of the instrument is supported on the forearm.
Applicants represented regions across Canada, a variety of levels of design experience and wide-ranging innovative solutions to common health problems among musicians. The submissions were evaluated by a panel of eight adjudicators with equal weighting between disciplines of 3D printing, music performance, and musicians' health.
As the winner, Robert Hunter will receive the KUN Prize, valued at over $35k, which includes a fabrication and fitting budget, a 5min piece of music commissioned for the instrument, performance of the instrument at the Ottawa Symphony Orchestra's 3D StringTheory concert on November 4th, and a $5k cash prize. The KUN Prize is sponsored by Marina Kun, President of KUN Shoulder Rests Inc., and fabrication is sponsored by Precision ADM and Axis Prototype Inc.
List of Adjudicators
Dr. John Chong, Medical Director of the Musicians' Clinic of Canada
Judith Robitaille, musicians' occupational therapist and professor at Université de Sherbrooke
David Saint John, Director of Innovation at Linamar Corporation
Gilles Desharnais, President of Axis Prototypes Inc.
Alain Trudel, Music Director of Ottawa Symphony Orchestra
Mary-Elizabeth Brown, Bielak-Hartman Concertmaster Chair of Ottawa Symphony Orchestra
Ben Glossop, Principal Bassoonist of Ottawa Symphony Orchestra
Travis Mandel, Principal Trumpet of Ottawa Symphony Orchestra